Press Release
UN Secretary-General's "Early Warnings for All" Initiative launched in Tajikistan
29 August 2023
The UN Secretary-General's the Early Warnings for All Initiative (EW4All) was launched in Tajikistan within two-day national consultation with key stakeholders from state and international agencies, UN, media and civil society organizations.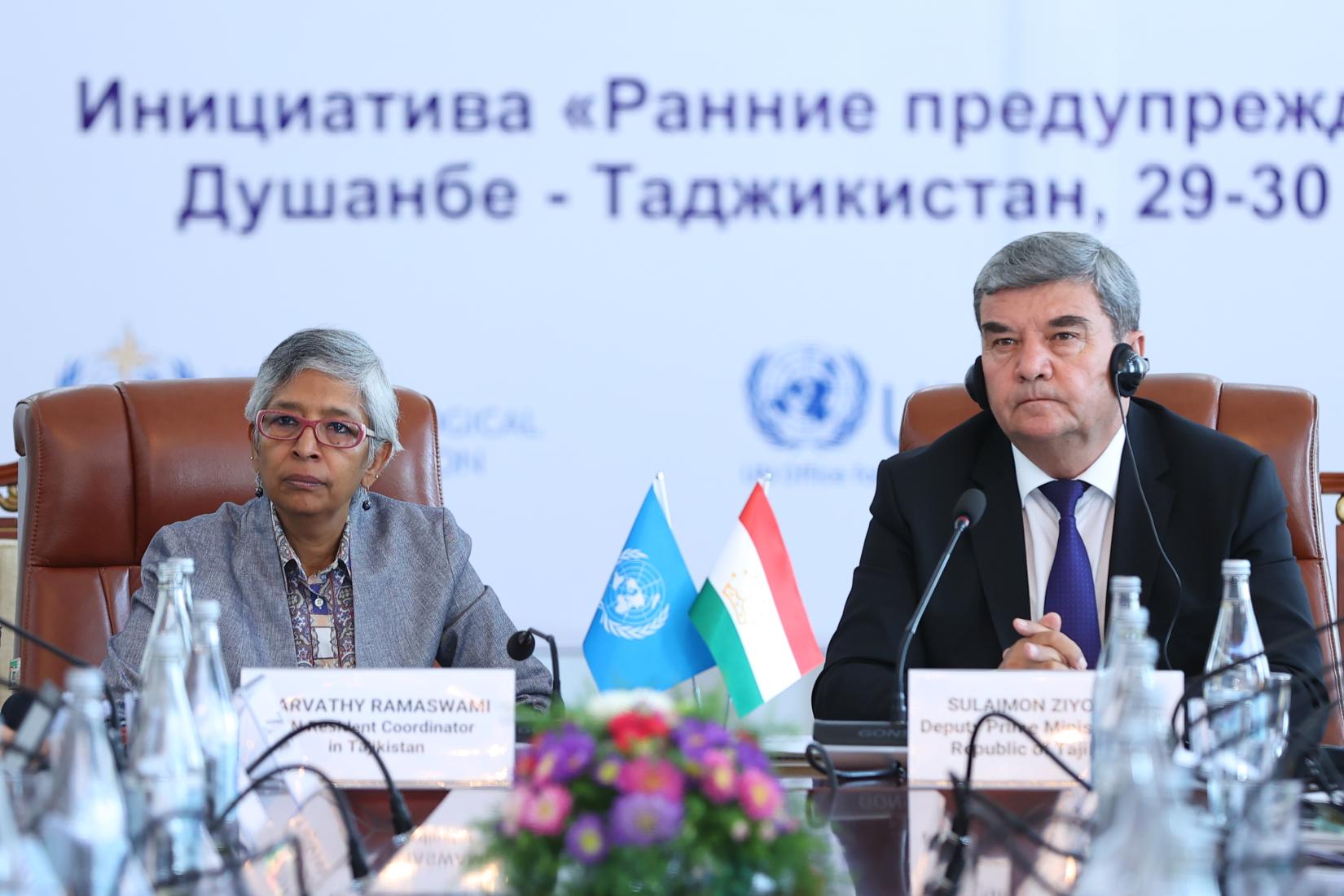 The national consultation was co-chaired by the Deputy Prime-Minister of Tajikistan and the UN Resident Coordinator in Tajikistan with active involvement of the lead agencies of four pillars of the Early Warnings for All Initiative.
Deputy Prime Minister of Tajikistan, Mr. Sulaimon Ziyozoda, inaugurated the event, highlighting its significance by stating that the Republic of Tajikistan attaches importance to climate change, disaster risk reduction and supports the call of the United Nations Secretary-General to protect everyone with early warning systems. He also noted: "Coordination of activities of different sectors and stakeholders, involvement of communities at risk, availability of favorable institutional and legislative environment, clear distribution of roles and responsibilities - all these are necessary to create effective and consistent early warning systems".
UN Resident Coordinator Ms. Parvathy Ramaswami said the launch of the Early Warnings for All initiative is "a crucial step forward in safeguarding the lives and livelihoods of Tajik communities from the impacts of climate change and other risks", adding that "a whole-of-society approach involving all stakeholders, including civil society and the private sector, will be critical for strengthening and sustaining the early warning services in the country".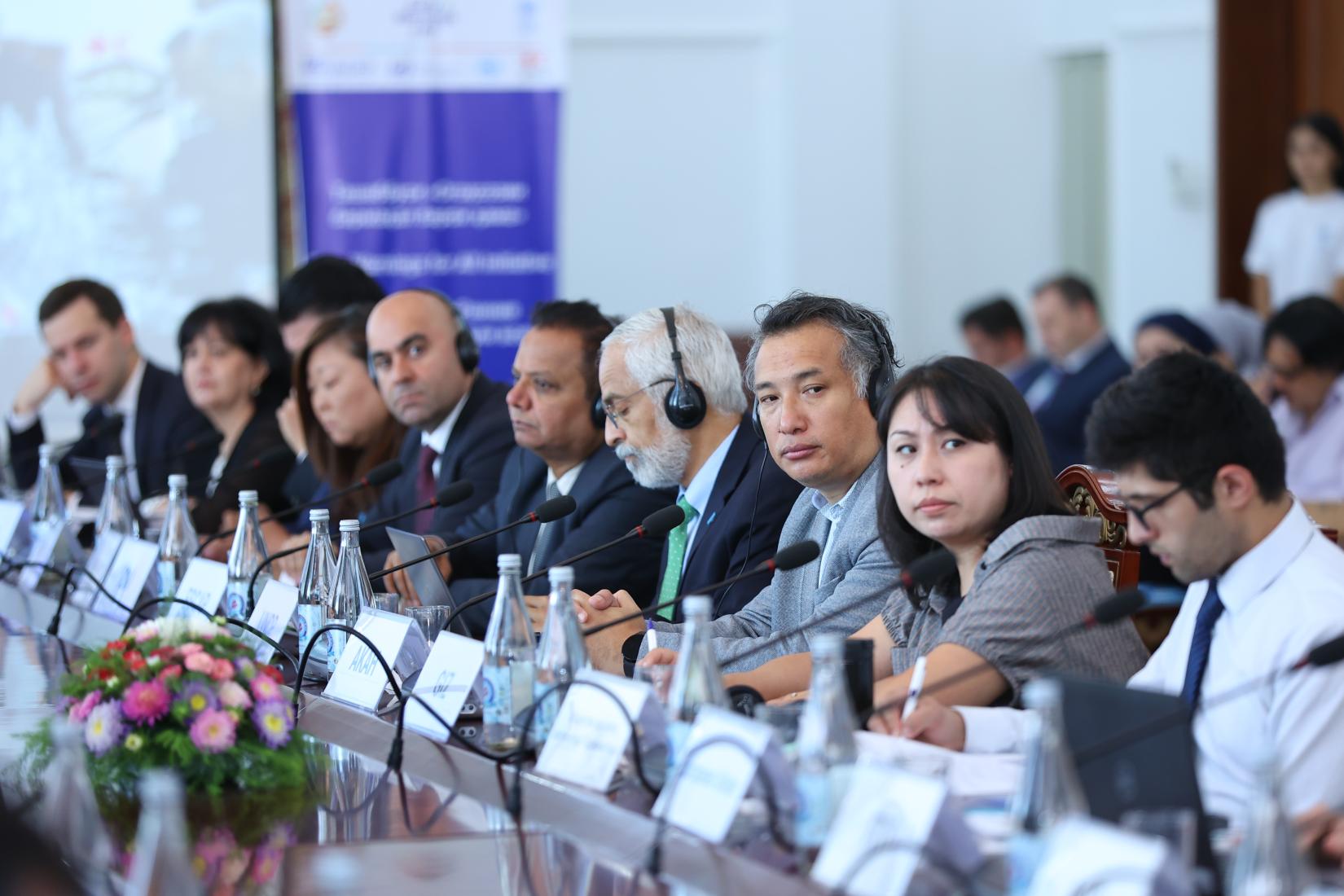 The representatives from relevant ministries, government agencies and development partners presented current advancements in implementing early warning systems in Tajikistan. They collectively identified challenges and prioritized strategies to expand the coverage, integration, and effectiveness of EWS.
The participants also engaged into technical discussions, mapping and a comprehensive gap analysis exercise, drawing from prior assessments, to identify the critical gaps and priority needs for support across the four pillars, agreeing a coordination mechanism and development of an action plan in the initiative's implementation.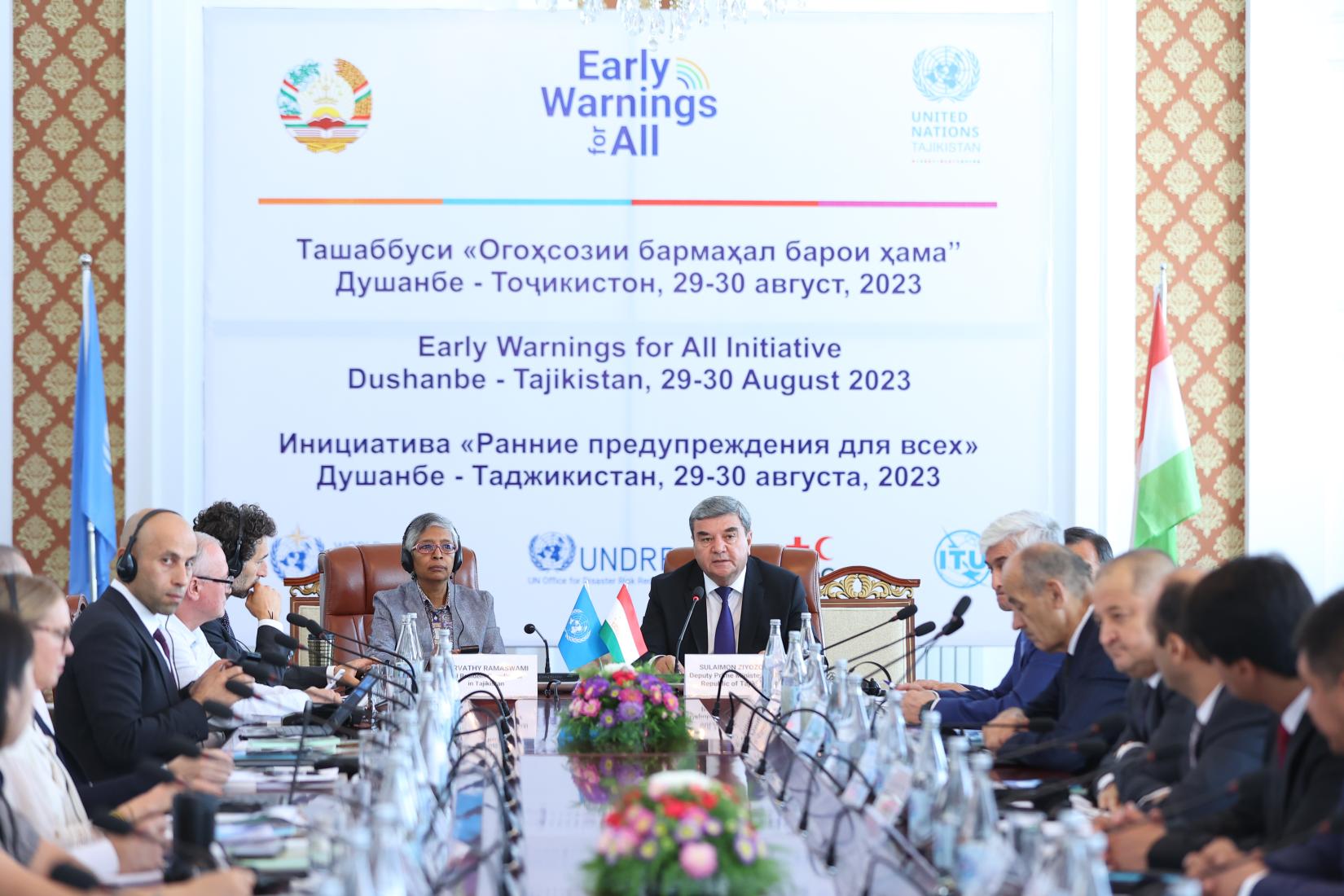 Tajikistan is faced with the frequent occurrence of natural hazards, such as avalanches, earthquakes, floods, mudflows, and landslides, with climate change further exacerbating their impacts. The Early Warnings for All initiative will build improved resilience to such risks in Tajikistan, with support provided across four interconnected pillars of EW4All: disaster risk knowledge; detection, observation, monitoring, analysis, and forecasting; warning dissemination and communication; and preparedness and response capabilities.
Globally one third of citizens are still not covered by early warning systems. EW4All Action Plan was launched at the UN Climate Change Conference (COP27) held in Egypt in November 2022 for further investment across knowledge, observations and forecasting, preparedness and response, and communication of early warnings, with particularly priority placed on vulnerable communities.disaster risk
The Early Warnings for All Initiative calls for a global effort to ensure that such systems protect everyone on Earth by 2027. Early Warning Systems, supported by preparedness and early action, are a proven, effective, and feasible disaster risk reduction and climate adaptation measure, that save lives and provide a tenfold return on investment. Yet, major gaps in early warning systems remain globally, especially when it comes to translating early warnings into risk-informed early action.
Lead agencies of four pillars of the Early Warnings for All Initiative:
United Nations Office for Disaster Risk Reduction (UNDRR)
World Meteorological Organization (WMO)
International Telecommunication Union (ITU)
International Federation of Red Cross and Red Crescent Societies (IFRC)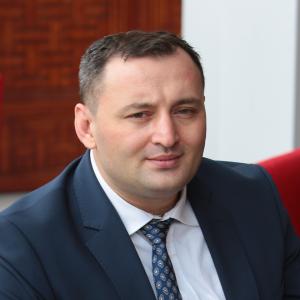 Boboev Parviz
RCO
Coordination and Development Analyst Programme Communications and Advocacy
UN entities involved in this initiative
ITU
International Telecommunication Union
RCO
United Nations Resident Coordinator Office
UNDRR
UN Office for Disaster Risk Reduction
WMO
World Metereological Organization
Other entities involved in this initiative
IFRC
International Federation of the Red Cross and Red Crescent