The UN Resident Coordinator Office
The Resident Coordinator's Office in Tajikistan supports the work of the UN Resident Coordinator and coordinates activities of the UN Country Team in its engagement with the Government as defined by the UN Sustainable Development Cooperation Framework (UNSDCF).
Tajikistan is currently implementing UNSDCF 2023 – 2026, which is the medium-term results framework that describes the response of the UN system to national development priorities. UNSDCF describes how the UN country team will contribute to the achievement of development results based on a common country analysis and the UN comparative advantage.
The Resident Coordinator is leading and strategically positioning the United Nations country team in Tajikistan to respond to the current national priorities. The Office has five core functions:
Strategic planning
Economic development
Partnerships and development finance
Data, results management and reporting
Communications and advocacy
The UN Resident Coordinator in Tajikistan
Mrs. Kavilmadam Ramaswami Parvathy was appointed as UN Resident Coordinator for Tajikistan in 15 March 2023.
Parvathy brings more than 30 years of experience in development and humanitarian sectors, focusing on strategic planning, performance, and risk management, people management, conflict analysis and humanitarian access negotiations.
Prior to her appointment as United Nations Resident Coordinator, Parvathy served as Representative and Country Director for the United Nations World Food Programme (WFP) in Türkiye, addressing the food and nutrition needs of the most vulnerable people. In this role, she led the emergency response of WFP, providing the much-needed food assistance to hundreds of thousands of earthquake-affected people immediately in the aftermath of the devastating earthquakes in the southeast region of Türkiye. Parvathy actively contributed to the UN multi-sectoral response in support of the efforts of the government to provide emergency assistance to the earthquake-affected people.
Before that, Parvathy worked as Representative and Country Director for WFP in Liberia and as Deputy Country Director (Programme and Operations) for WFP in Afghanistan. In other career assignments, Parvathy has served in the Asia Pacific, West Africa, Regional and Global Headquarters of WFP, further contributing to ending hunger in the world. In her diverse roles, Parvathy has worked together with the national governments, United Nations Agencies and other development and humanitarian actors for promoting sustainable actions towards building healthy, productive, and cohesive communities and societies, while advocating for responsible policies and legislations for safeguarding the environment for current and future generations.
Parvathy holds a Masters' degree in Organizational Performance Management from the School of Management, Cranfield University in England.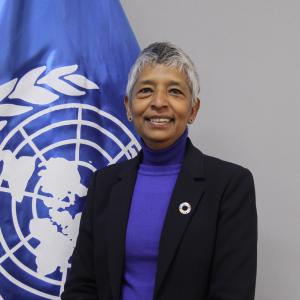 Parvathy Ramaswami
Resident Coordinator