Press Release
Authorities and civil society in Tajikistan highlight multiple models of their cooperation and discuss lessons learned and the way forward
31 May 2023
A seminar on models of cooperation between the state institutions and public organizations of Tajikistan took place in Dushanbe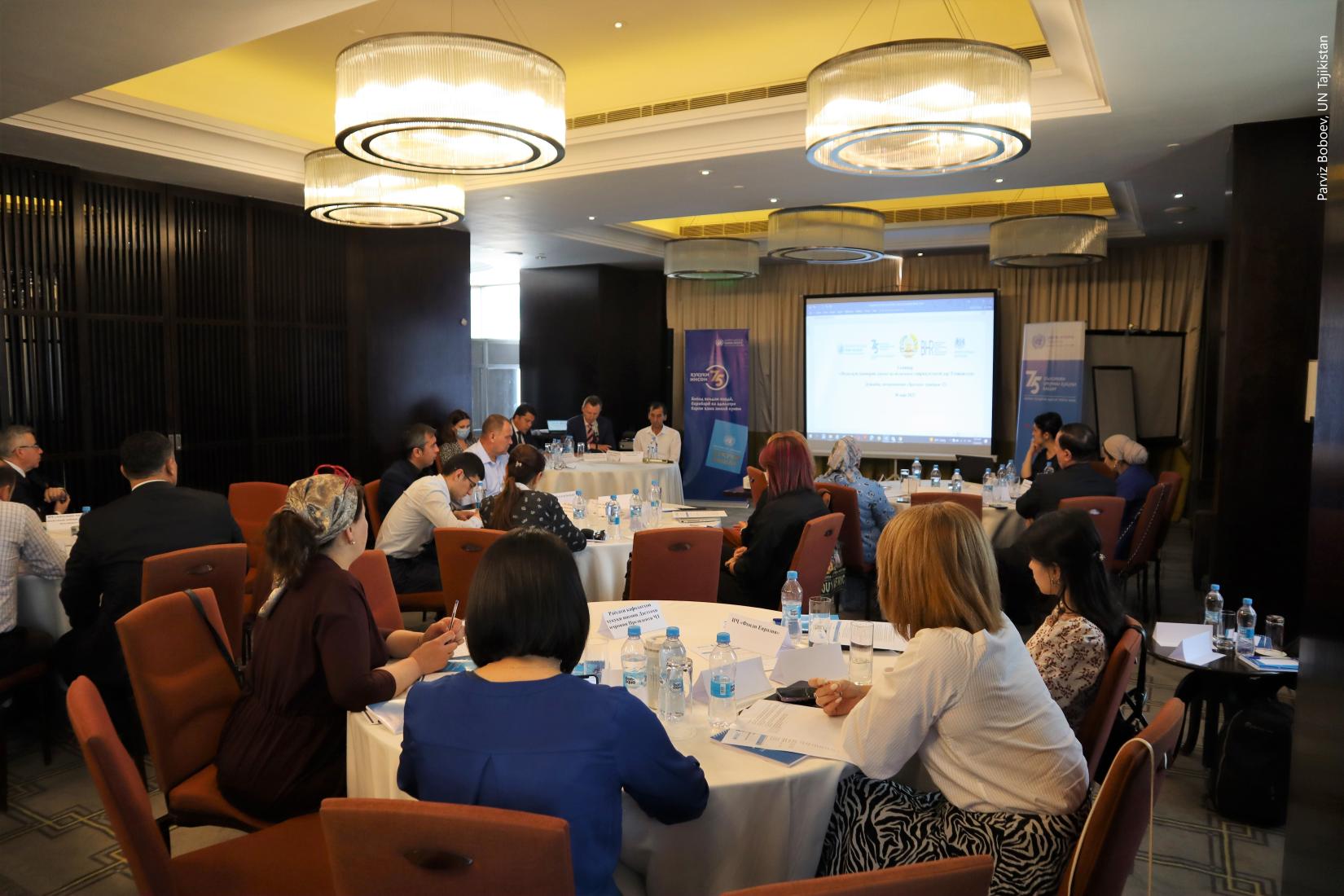 The Department of the Human Rights Guarantees of the Executive Office of the President of Tajikistan in cooperation with the OHCHR and NGO "Bureau for Human Rights and Rule of Law" (the Bureau), with the support of the Embassy of the United Kingdom in Dushanbe, held a seminar "Models of cooperation between state bodies and NGOs in Tajikistan". The seminar aimed at discussing key findings of the research on the same subject held earlier in 2023 by the Bureau and supported by the UN Office of the Resident Coordinator in Tajikistan.
In his opening remarks, Pavlo Byalyk, Human Rights Advisor in Tajikistan, noted the importance for authorities in Tajikistan to strengthen existing and create new channels of participation for civil society in the processes of policy and decision-making through building partnerships based on trust and professionalism. "The research held by the Bureau demonstrates how much diverse and useful work has already been done by NGOs in cooperation with national and local authorities in Tajikistan", he continued.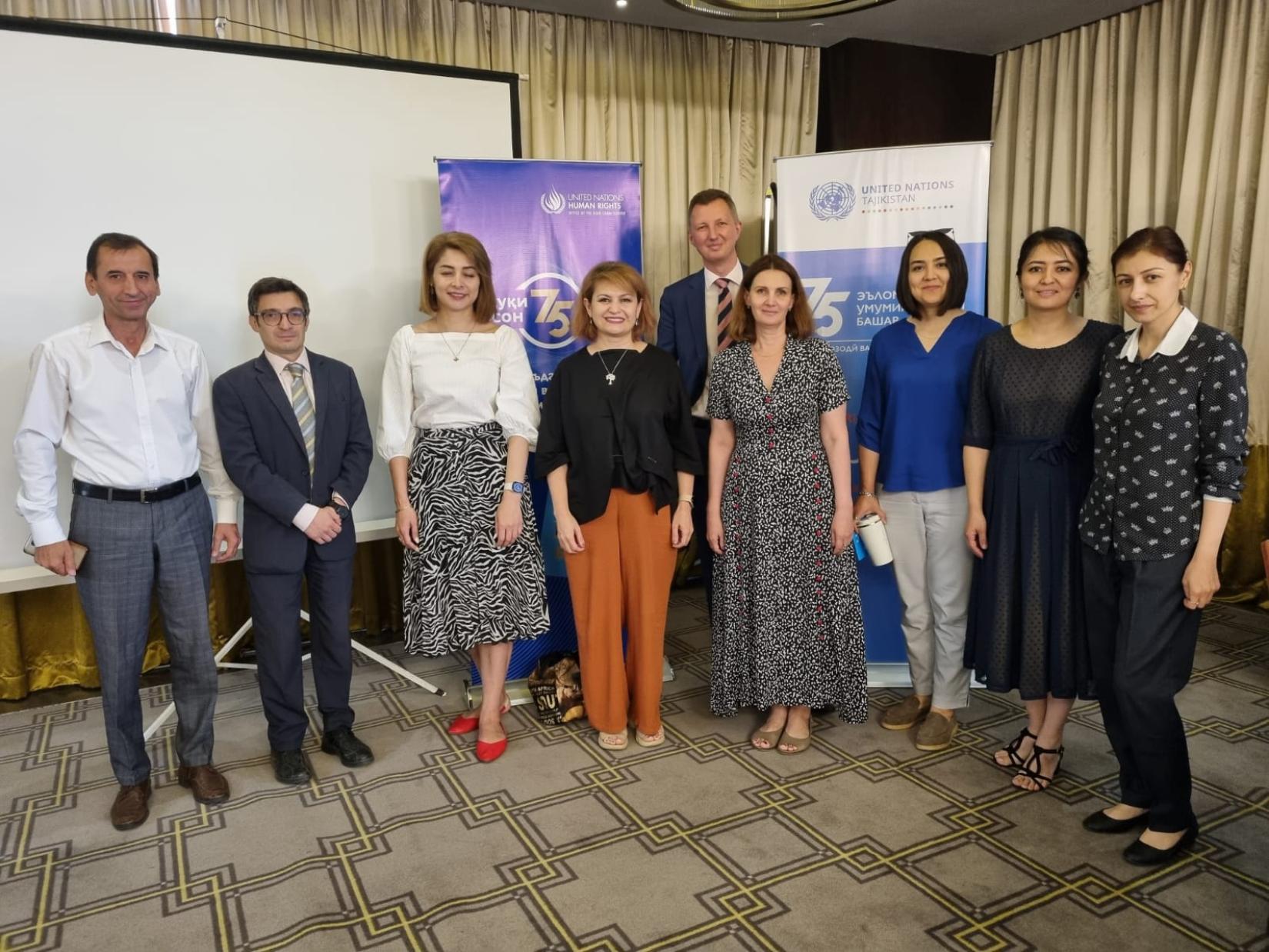 Madina Usmanova from the Bureau, who led the research on models of cooperation between authorities and civil society, explained that the initiative was dedicated to the 75th anniversary of the Universal Declaration for Human Rights as civic space is a red thread that binds together all human rights proclaimed in the Declaration.
During the seminar, its participants discussed the findings of the research, presented various models of partnerships between state bodies and NGOs as well as highlighted successes and results achieved. In the break-out group discussions, representatives of authorities and civil society identified the ways to strengthen their cooperation as well as outlined key thematic issues to be addressed by such cooperation.
The seminar was attended by representatives of the Parliament, Ombudsman Office, Supreme Court administration, Ministry of Foreign Affairs, Ministry of Justice, Ministry of Internal Affairs, Ministry of Culture, Ministry of Health and Social Protection, Ministry of Labour, Migration and Employment, Committee on Women and Family Affairs well as NGOs from Dushanbe, Bokhtar and Khujand.
Note: the above-mentioned initiative is a part of the UN's actions within 75th anniversary of the Universal Declaration of Human Rights. The  Universal Declaration of Human Rights (UDHR) is a foundational blueprint for taking concrete actions to stand up for human rights and tackle pressing global issues today. In 2023 the world marks 75th anniversary of UDHR. The UN is commemorating this important anniversary with a year-long campaign to raise awareness and promote the Declaration and what it means for humankind. The campaign will have three main goals that focus on universality, progress and engagement under the leadership of UN Human Rights.
UN entities involved in this initiative
OHCHR
Office of the United Nations High Commissioner for Human Rights
RCO
United Nations Resident Coordinator Office
Other entities involved in this initiative
KAZ SWF
Sovereign Wealth Fund Samruk Kazna