Press Release
UN Human Rights Office enhances capacity of the Ombudsman Office to implement the law on equality and elimination of all forms of discrimination
17 March 2023
OHCHR in Tajikistan, in cooperation with NGO Nota Bene, organised a two-day training workshop for the staff of the Commissioner for Human Rights in Tajikistan (Ombudsman Office) on equality and non-discrimination issues. The workshop "The Right to Equality and Non-Discrimination", held in Dushanbe on 14-15 March 2023, aimed at assisting the Ombudsman of Tajikistan in implementation of the Law on Equality and Non-Discrimination which entered into force in July 2022.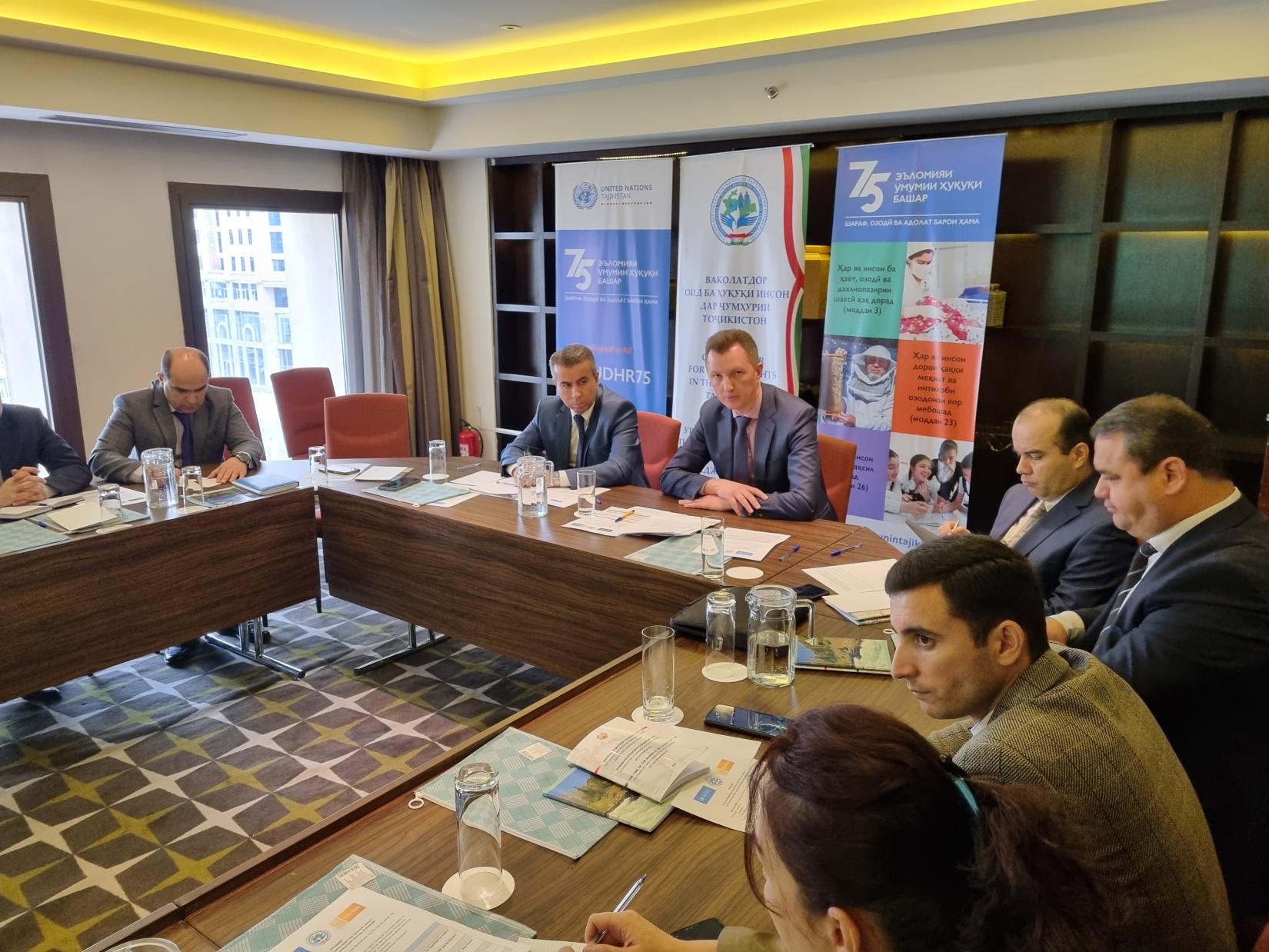 In his welcoming remarks Mr Umed Bobozoda, Commissioner for Human Rights in Tajikistan, stated that Tajikistan has implemented the recommendation of the Universal Period Review "to adopt a comprehensive anti-discrimination law that provides effective protection against all forms of direct, indirect and multiple discrimination and access to appropriate remedies for victims of discrimination".
"We are very proud that this important law has been adopted. However, there is much work, related to its implementation, ahead of us. This includes setting up of a specialized non-discrimination unit within my office (which is in the final stage of establishment), development and adoption of a series of by-laws and amendment of existing laws, as well as preparation of the first annual report on equality and non-discrimination", he continued.
During the workshop, participants learned about UN Treaty Bodies and Special Procedures mandate-holders that work on non-discrimination issues. They discussed various notions related to non-discrimination, such as prejudice, stereotypes, stigma, principles of equality and non-discrimination, types of discrimination, as well as temporary measures. Under the guidance from an NGO trainer and two trainers from Ombudsman Office, they worked in small groups to consider the cases of discrimination to identity the grounds for discrimination and its consequences.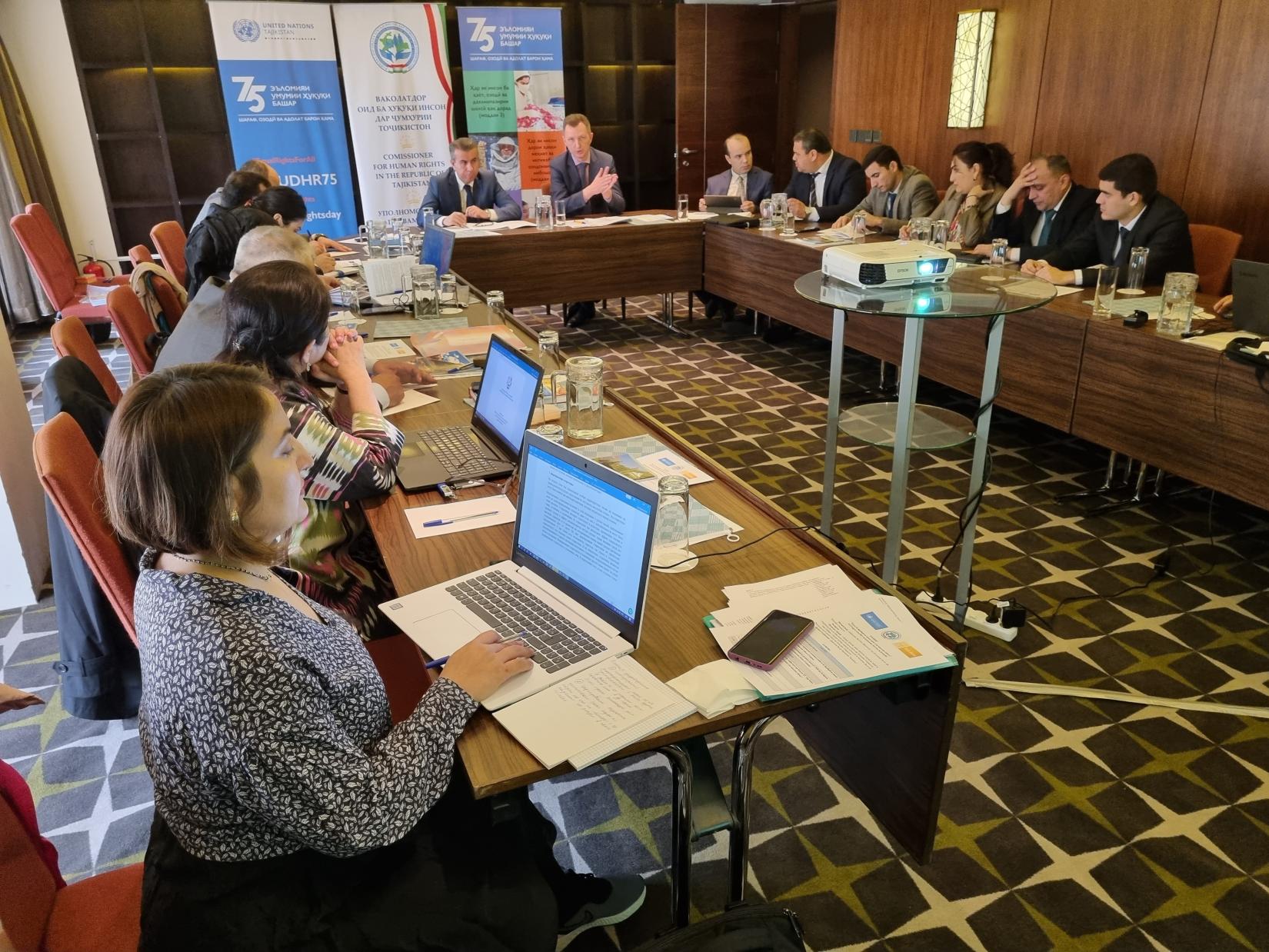 Mr Pavlo Byalyk, Human Rights Advisor in Tajikistan, stressed that discrimination is a serious human rights problem all over the world. He further stated that "Absence of discrimination complaints is not necessarily a sign that there is no discrimination. It is often an indicator that the complaint mechanism is not effective and that an awareness-raising campaign needs to be held, among vulnerable groups, so that they can effectively seek remedies for various types of discrimination they experience".
OHCHR plans to continue its work on enhancing capacity of Ombudsman to ensure that his Office, as the institution in charge of processing discrimination complaints, knows how to address discrimination issues effectively. One of the next steps planned by the Ombudsman is to hold an information campaign in all regions of Tajikistan to present provisions of the Equality and Non-Discrimination Law and to explain to various population groups how to claim their rights under this law.
Note: the above-mentioned initiative is a part of the UN's actions within 75th anniversary of the Universal Declaration of Human Rights. The  Universal Declaration of Human Rights (UDHR) is a foundational blueprint for taking concrete actions to stand up for human rights and tackle pressing global issues today. In 2023 the world marks 75th anniversary of UDHR. The UN is commemorating this important anniversary with a year-long campaign to raise awareness and promote the Declaration and what it means for humankind. The campaign will have three main goals that focus on universality, progress and engagement under the leadership of UN Human Rights.
UN entities involved in this initiative
OHCHR
Office of the United Nations High Commissioner for Human Rights