Story
Enhanced livelihoods of rural Tajik families help overcome the COVID-19 crisis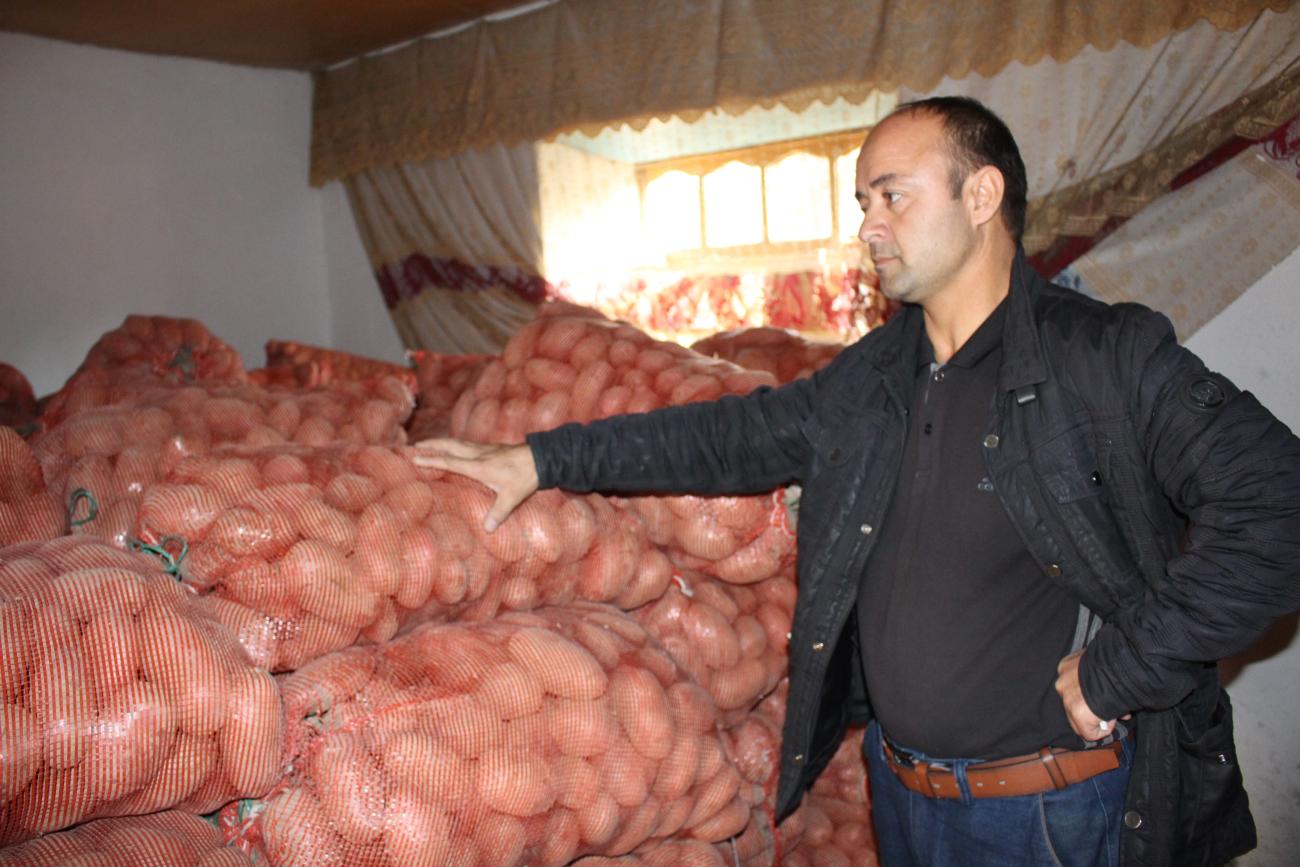 Agriculture has a central place in the culture of mountainous Tajikistan.
Ehanced livelihoods of rural Tajik families help overcome the COVID-19 crisis
28 January 2021, Dushanbe – Agriculture has a central place in the culture of mountainous Tajikistan. In fact, more than 60 percent of Tajik people work in agriculture, cultivating the country's arable land that extends over 850 thousand hectares.
The Nurobod district, located in the Rasht valley, boasts beautiful landscapes with high agricultural biodiversity that contributes to its resilient ecosystems. Yet, like in other rural areas, the life here has its beauties and hardships alike.
"It is a hard time now for everyone, including farmers, doctors, teachers, and other rural residents due to the COVID-19 pandemic situation," said Bukhori Saidov, a farmer, who benefitted from a European Union-funded FAO project. "However, I think we are very lucky, because at the beginning of the crisis, when all borders were closed and no one could enter or leave, we got tremendous support as members of the Nuri Nurobod cooperative."
Bukhori Saidov is not only a member of the Nuri Nurobod cooperative, which was established in early 2020, but he is also a paramedic in charge of the medical station in the Obi Lurd village in the northern Nurobod district that serves more than 3 500 people. He is married and father of six children. Bukhori has about six hectares of land in Javchi and Kahbit areas, both in the highlands, where he is engaged in crop production and horticulture, as well as livestock production.
Turning a challenge into a possibility
"When I got married and my children were born, life became challenging as it was hard to maintain the family with my monthly wage. At that time, I decided to do something else," recalls Bukhori. I don't come from a farmer family, my father worked in the law enforcement, and haven't practice traditional farming before. Still, I knew that agriculture can be a good solution and ensure a sustainable income and better livelihood for my family."
Bukhori was eager to learn. Every day, he spent six to seven hours on working and learning in the field for his idea and ambitions to flourish. Bukhori tried to explore the intricacies of this sphere. He observed similarities between humans and plants, since growing plants is similar to humans; they both can get sick and need treatment.
The light at the end of the tunnel
When Bukhori Saidov found out about a cooperative being established in Nurobod district with additional benefits, including distribution of a quality potato seed, construction of a storage facility, and further opportunities, he immediately decided to be part of it. He understood that this initiative can improve potato seed availability and improve the food security of the rural population, particularly important during the COVID-19 crisis. Because the high yield potato seeds enable small-scale farmers to increase productivity and will result in greater availability of potatoes for local consumption, Bukhori grew very enthusiastic.
"It is difficult to find high quality potato seeds due to limited availability and high price, especially when the demand for seed is high ahead of the planting season. In addition to this, other challenges such as access to quality pesticides, fertilizers, and other inputs often prevent farmers from attaining higher yields," pointed out Bukhori. "For the past several years, we have usually planted the Picasso variety potato seed that had better yields in comparison with the local potato varieties. Actually, I harvested no more than 25–30 tonnes of potato per hectare."
As part of the project supported by the European Union, cooperatives in Nurobod and Shahristan districts received a Dutch potato seed called Red Scarlet. With expert know-how provided by FAO, both cooperatives promoted potato seed banks, so local farmers had an opportunity to learn about innovative approaches for producing potato seeds. Training sessions were organized for members of the cooperatives on the advanced technologies of potato growing, fertilizing methods, and developing irrigation schemes.
"I received 1 tonne of elite seed potato Red Scarlett and planted it on 0.24 hectares, from which I harvested over 30 tonnes of potatoes. This was the best result and I am very proud of this achievement. I gave 3 tonnes of seed potatoes to the cooperative for the next sowing campaign that are now stored in a warehouse. The rest of the harvest is for our own consumption and part of it I sell as there are many buyers who are interested in this potato variety," said Bukhori during the interview.

"It is a very delicious variety of potato with a good yield, and if we do growing, fertilizing, and irrigation properly, we all can have a record harvest." ©FAO/Bunafsha Azimova
Good prospects for the future
The project will continue to support cooperatives' development. In the future, logistical centers will be built to provide cooperatives with sorting and processing equipment, ensuring farmers with access to machinery and other services, and improve product marketing.
"It is a very delicious variety of potato with a good yield, and if we do growing, fertilizing, and irrigation properly, we all can have a record harvest. I hope for positive changes with the support of the cooperative. Next year, I intend to expand the area for planting this seed potato."
The EU-funded project is supporting Tajikistan's agriculture reform programme, which aims to foster and support farmers' economic and social growth. It also encourages establishment and development of effective and efficient cooperatives.
Last year two cooperative unions in Nurobod and Shahriston districts received 60 tonnes of Red Scarlet potato seeds from the Netherlands, incorporated altogether 60 farmers as members. The total costs for purchasing seed potato was USD 90 000 and overall the farmers received 803 tonnes of potato, from which 482 tonnes are seed potato of the first reproduction.
LINKS:
FAO, EU provide 60 tonnes of potato seeds to Tajik farmers
http://www.fao.org/europe/news/detail-news/en/c/1274360/
Stronger linkages of cities and rural areas back efficient food systems in Tajikistan
http://www.fao.org/europe/news/detail-news/en/c/1365924/
GEF allotment helps Azerbaijan and Tajikistan
http://www.fao.org/europe/news/detail-news/en/c/1364299/
Ensuring quality seeds when the need is greatest
http://www.fao.org/europe/news/detail-news/en/c/1331170/
Matching grants help migrants' businesses take off in Tajikistan
http://www.fao.org/fao-stories/article/en/c/1287874/
Journalists & editors:
For video, photos, audio clips contact: (+39) 06 570 53625 or FAO-newsroom@fao.org.
Online tools:
Footage download via FAO Media Vault
Photos via the FAOnews Flickr account
FAO's online newsroom
RSS feed of FAO news releases
Follow us on Twitter: @FAOnews
UN entities involved in this initiative
FAO
Food and Agriculture Organization of the United Nations