Story
Code for Climate Like a Girl! Young Woman Challenges Stereotypes, Joins a Team to Win Climate Hackathon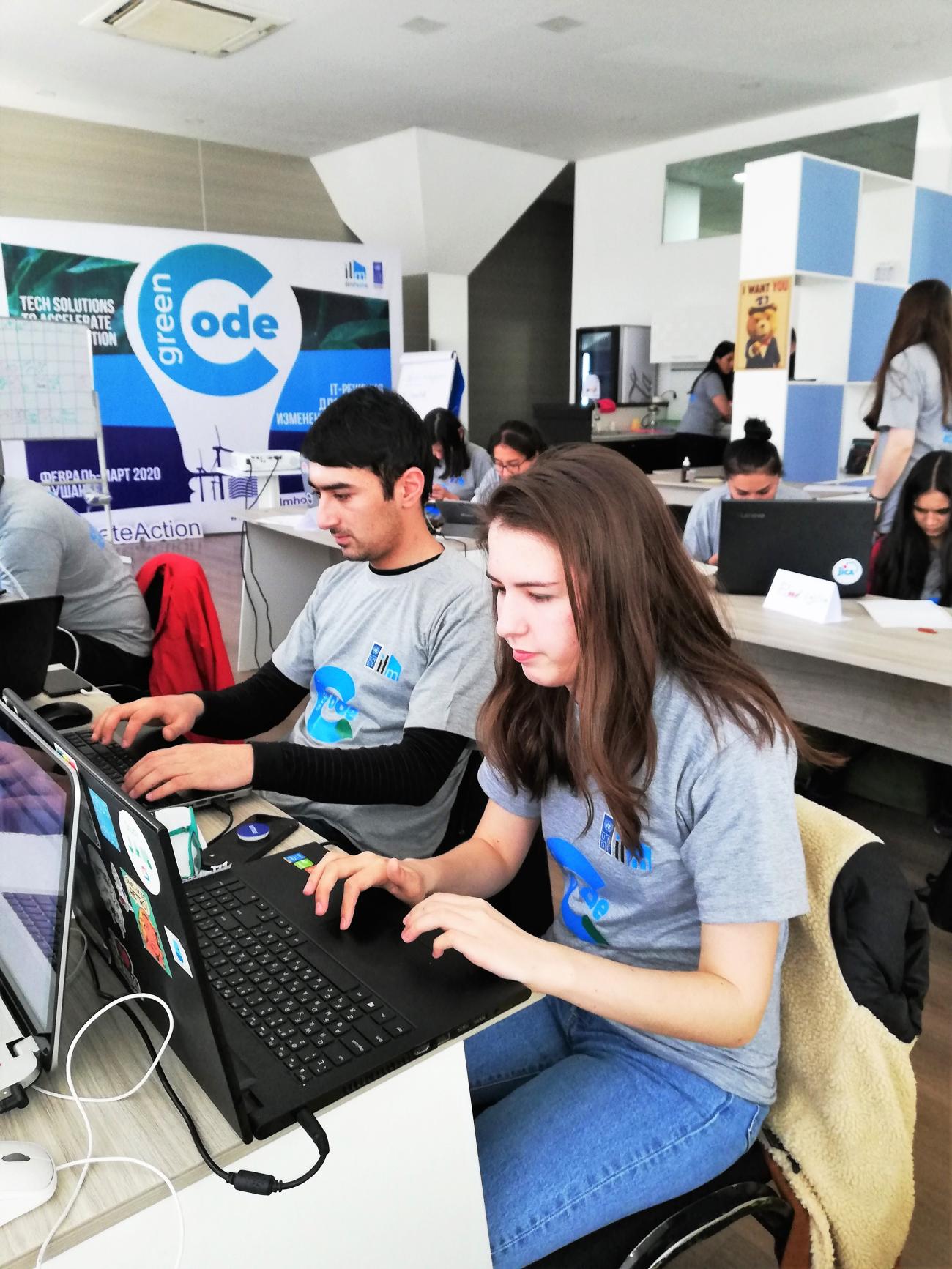 Anastasiya Penkova, 22, works to develop her first social project online to give second life to things and reduce consumption impact on climate.
The applied math and computer science graduate of the Moscow State University branch in Tajikistan is a members of the winning team of the first Climate hackathon in Tajikistan aimed at finding and coding technological solutions for greener future.
Five years ago Nastya would not imagine herself sitting behind a computer and typing algorithms: Raised by parents with technical education, she was thinking of anything but STEM.
"There was time when I was seriously thinking of becoming a professional cook. My parents wanted me to choose science and, at some point, I spontaneously, intuitively, decided to study coding, especially when I had this luck of going to extra-curricular math classes," recalls Nastya, who now works as a developer in banking system.
Nastya represents one of the country's largest demographic group, but her story, an aspiration for many, is far not a common one.
Information technology is seen as predominantly male profession and is rarely first choice profession for young women. According to UNESCO data, only three per cent of IT students worldwide are women. The number is significantly lower in Tajikistan. The situation becomes even more complicated as only about 33 per cent of the population have access to Internet, while service quality remains poor and the prices are too high for many to afford.
Tajikistan is among the countries with youngest population. The country is largely dependent on remittances sent home by more than a million migrants from Russia. Girls' education, particularly in rural areas, is often sacrificed for conservative views and economic restrictions.
Thus, the story of a young woman coming up with IT solutions for social and ecological issues is an odd one. Nastya recognizes her luck of having been born in Dushanbe in an educated family that has provided her with all the means. Yet, she believes what matters most is the will and the family's support to go against stereotypes. "Bit by bit the world of bits and bytes stopped to be boring and grey for me. I learned to find coding useful for solving social, climate and business challenges."
UNDP in Tajikistan supports young women and men in creating innovative smart solutions for development issues. Code Green is a first UNDP initiative aimed at promoting innovative high-tech ecological solutions among young women and men to support climate positive businesses & start-ups and youth engagement in adaptation practices. The initiative is funded by UNDP and the Government of the Russian Federation and implemented in partnership with local skills accelerator "Ilmhona"
UN entities involved in this initiative
UNDP
United Nations Development Programme